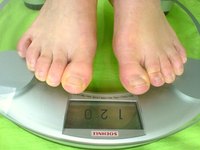 Body mass index, or BMI, is a measure used to estimate body fat. BMI is calculated using weight and height measurements and can help determine whether a person is underweight, healthy or overweight. While not exact, BMIs are both inexpensive and easy-to-use tools.
BMI and Weight
BMI values suggest whether a person is underweight, normal, overweight or obese due to the amount of body fat. For example, 5'9" individual with a BMI below 18.5 would be considered underweight, 18.5 to 24.9 would be considered normal, 25.0 to 29.9 would be considered overweight and 30 or higher would be deemed obese.
BMI and Health
BMIs have also been found to correlate to other areas of health. For instance, a high BMI suggests a higher risk for diseases like coronary heart disease, stroke, Type 2 diabetes, hypertension, gallstones, osteoarthritis, breathing and respiratory problems and certain cancers.
Considerations
While calculating BMIs is an easy way to learn about weight and health, it is not an exact science. There are many scenarios in which BMIs do not accurately calculate the amount of body fat on an individual. For instance, the BMI of athletes or individuals with a muscular build is often higher, which suggests a higher degree of body fat than is truly the case. Also, at the same BMI, females usually have more body fat than males. Age also makes a difference; BMIs often underestimate the amount of body fat on older adults. Using other measurements, such as waist circumference, can help paint a more accurate picture of your weight and health.