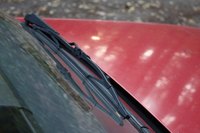 Safeco Insurance originated in 1923 and is part of the Liberty Mutual Group as of 2010. Safeco sells a variety of insurance products, including auto, homeowners and business insurance through its network of independent agents.
Identification
Windshield dings, which are often the result of flying stones propelled by other vehicles on the road, are typically covered under comprehensive coverage on an auto policy. Comprehensive pays for damage to your vehicle caused by non-accident–related occurrences.
Availability
As of 2010, Safeco offers comprehensive coverage among its array of auto policy coverages. Factors such as the make, model and year of your car will determine the amount of premium you will be required to pay. Premiums may also vary from state to state.
Considerations
Although comprehensive coverage is typically considered optional, there are situations where you will probably need to carry it. If your vehicle is financed, it is likely that the financial institution will require that you carry comprehensive coverage until your vehicle is paid off.