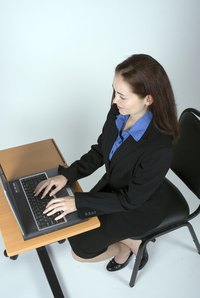 Tracking information is a crucial part of managing human resources. A Human Resources Information System (HRIS) is designed to do just that. Training to utilize information systems can come from human resources courses or from the companies that sell HR information systems.
Function
The majority of HRIS are computer software programs. Some smaller businesses use a paper flow system. The purpose of an HRIS is to keep track of employee records such as performance evaluations, payroll, personnel information and benefits administration information. An HRIS can allow employees access to information regarding policies, according to Howard University.
Schools
HRIS training can be found through many universities and colleges. Schools that offer business administration programs provide courses that teach students to manage an HRIS. Brown Mackie College provides HRIS training as part of the business administration Bachelor of Science degree.
Businesses
Some companies that sell the software for HR information systems provide training and support. For example, HRA Employee Solutions has presentations and support. Other software businesses have online support available to consumers, as seen on the HR Data Manager website.