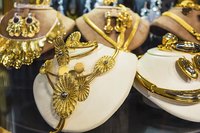 The Universal Precious Metal Marking System, more commonly known as hallmarking, is what protects consumers from unscrupulous jewelry sellers. Hallmarking, which covers gold, silver and platinum, is an official designation added to a finished jewelry item after it's been tested at an assay office to determine its exact ingredients and quality. Even though the U.S. has its own marking system regulations, many manufacturers also use international marks, mainly due to increasing Internet sales.
How Does Hallmarking Work?
The marking system reveals three to four important pieces of information. It identifies the maker, tells you the precious metal content of a piece of jewelry in parts-per-thousand and specifies the assay office that tested and marked the item. It may also display the year in which the item was tested and marked. The All About Gemstones website reports that hallmarking, at the time of publication, is mandatory for jewelry manufactured in Austria, the Czech Republic, Denmark, Finland, Netherlands, Norway, Portugal, Sweden, Switzerland and the United Kingdom.
Hallmarking as a Consumer Protection
The standard mark is perhaps the most important to a consumer. It ensures that you really are purchasing 24 karat gold or sterling silver jewelry. For example, the hallmark for 24 karat gold is .999, and the standard for 14 karat gold is .585. If an advertisement says a piece of jewelry is 24 karat gold, but the hallmark stamp on the inside of a ring band says .585, it's false advertising. In the same way, the hallmark for sterling silver is .925, so jewelry advertised as sterling silver must have this hallmark.