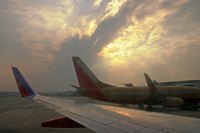 The Travel Security Administration (TSA) regulates many aspects of air travel, but luggage size restrictions for international flights are determined by the individual airlines. Following restrictions for the size and weight of checked and carry-on luggage will lead to a smoother travel experience. Details of specific airline regulations can be found on airline websites.
Carry-On Luggage
The usual size limit for carry on luggage is 45 linear inches, which means the length, width and height of the luggage added together must equal 45 inches or less. It is common for airlines to have a small box near the check-in counter or passenger screening area, measuring 22" x14" x9", into which pieces of carry-on luggage must fit. Carry-on baggage usually is restricted to 40 pounds or less.
Checked Luggage
The usual size limit for checked luggage is 62 linear inches. The usual weight limit is 50 pounds. per bag. Bags weighing more than 50 lbs. are accepted, but an overweight fee is usually charged.
Exceptions
Some destinations, such as Brazil, typically have different weight limits. Airlines can provide details about these differing limits.