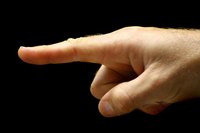 Split nails, along with changes in nail texture and minor infections, are on the list of common nail problems. They can be caused by a range of health-related factors for both men and women.
Causes
Leaving your hands in water for long periods of time is a common cause for nail splits. Over time, the exposure can weaken the nails, which encourages those annoying side-to-side splits. Nail polish, along with other chemicals, can have the same weakening effect.
Considerations
It is possible to strengthen the nails, which can help cut back side-to-side splits. The National Institutes of Health suggests using Biotin along with a protein polish to help make nails stronger.
Prevention
According to "O," The Oprah Magazine, keeping the hands and nails moisturized is a key way to avoid dry, brittle nails. Applying lotion to the hands two times each day should get the job done. Also, keeping nails smooth and trimmed short makes them less likely to be damaged. Gloves, by the same token, can help seal in moisture and protect nails from the elements.