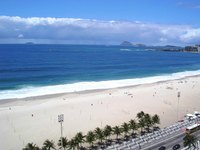 In recent years the men's swimwear market has expanded to include a greater variety of shapes and styles. The Brazilian cut is a tight-fitting, flattering short that still offers more coverage than some of the skimpy briefs worn by actual Brazilian beach-goers.
Origins
The Brazilian cut originated on the beaches of Rio de Janeiro, championed by Brazilian beach aficionados who liked to expose as much flesh as possible.
Design
The Brazilian trunk is designed to be a more flattering alternative to the traditional Speedo shape. The waistband is low and goes straight across the waist, often dipping slightly at the back. The legs are lower than most tight-fitting swim trunks, cut in a straight line under the buttocks.
Advantages
Brazilian trunks expose greater amounts of flesh than baggy, surfer-style shorts, allowing men to easily tan their legs and lower torso. However, they offer more coverage than a high-legged, Y-front-style pair, allowing for greater movement and comfort on the beach. They also have the advantage of enhancing a toned bottom, in the same way ladies' Brazilian-cut briefs do.