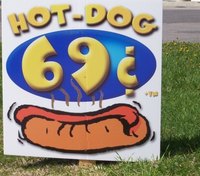 It costs at least $4,000 to purchase a manufactured hot dog cart. By building your own hot dog cart, you can save nearly $3,500 and have the satisfaction of having a customized cart that fits your needs.
Plan
Design plans and videos are available to help you build your own hot dog cart. Each plan provides directions that you can easily follow. The cost to purchase such plans is anywhere from $25.00 to $50.00 but well worth the savings you'll realize when your cart is finished.
Tools
The plans specify building a hot dog cart using tools commonly found at home. Your budget may be somewhat higher if you need to purchase tools.
Parts
Parts needed to build your hot dog cart can be found at your local hardware store. You can also search online for steeper discounts. A small trailer, water tanks and pumps, propane burner and hose, as well as the sinks, clamps and tubing are all you need to pass inspection in the United States. These parts will run you anywhere from $400 to $450.