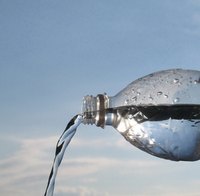 It doesn't seem like leaving a water bottle out in the sun for any extended period of time--say a week or more--would bring any harm to the water. After all, it's sterilized and in a sealed environment--the bottle. The bottle, however, proves to be the problem when it comes to sun exposure.
Bisphenol-A
Many disposable plastic water bottles contain a chemical known as bisphenol-A or BPA for short. This chemical has been proven to reduce sperm count and increase the risk of breast cancer. When plastic is heated, it releases its chemical composition into the immediate environment. Such is the problem with water bottles left out in the sun for an extended period of time. The heated plastic leaches its BPA into the water, increasing the consumer's exposure to significantly higher levels of BPA.
Effects
Research shows that clear water bottles made of polycarbonate plastic can leach, which in turns acts as a hormonal or endocrine-disrupting chemical that tricks the body into thinking that it is processing estrogen. According to Washington State University Researcher Patricia Hunt, any polycarbonate material--including mice cages used in laboratories--can leach BPA. She discovered this issue when mice housed in some of the BPA-laced cages in the laboratory began to experience infertility. The mice had elevated levels of BPA.
Considerations
Many environmental specialists recommend if you are going to consume bottled water, do not store it in direct sunlight or in a heated environment. If at all possible, it is best to forgo bottled water all together, and use a BPA-free container such as stainless steel. Tap water, insists researchers, is by far the better alternative because it contains no BPAs nor does it have the extended environmental impact that a water bottle does, many of which take more than 1,000 years to break down in a landfill.