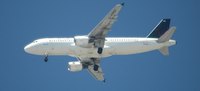 Round trip travel begins and ends at the same location. Traditionally, round trip tickets have been less expensive than buying one way tickets with an open ended return; however, market trends show that one-way travel is becoming more affordable.
Location
Your point of origination should be your point of return on a round trip flight. Some affordable airlines book travel in one way segments allowing you to fly into one airport and out of another airport.

Cost
Shop around to find the best prices. Flying round trip costs you less. Consider nearby destinations, as a round trip ticket to and from your closest airport may not give you the best price. Many cities have more than one airport to choose from.

Convenience
You have limited options if you face uncertain return dates for your air travel. Open-ended tickets, with no predetermined return date, are most convenient. For open ended travel, purchase two one-way flights.