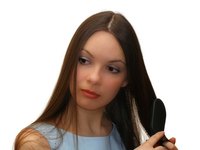 Biotin forte is a multivitamin supplement that contains biotin. The body uses biotin to break down specific substances including fats and carbohydrates. Biotin forte is taken to treat vitamin deficiencies caused by illness, pregnancy, poor nutrition and other conditions.
Benefits
When taken on a daily basis, biotin forte helps sustain normal blood pressure levels and improves blood sugar metabolism. This multivitamin has positive effects for nervous and circulatory system health. Other benefits include nourishment of nails, skin and hair.
Side Effects
Taken as directed, biotin forte does not normally cause serious side effects, according to Everyday Health. Minor side effects include headache, nausea and an unpleasant taste in the mouth. Side effects from allergic reactions include breathing difficulties, hives and swelling of the throat, lips, tongue or face.
Drug Interactions
Multivitamins can interact or influence the effectiveness of other medications. These medications include water pills, heart or blood pressure medications, tretinoin, isotretinoin, ibuprofen, naproxen, diclofenac, trimethoprim and sulfamethoxazole. If taking any of these medications, consult a physician before taking biotin forte.
Warning
According to Everyday Health, while taking biotin forte, avoid taking other multivitamins products at the same time. This medication should not be taken with dairy products or calcium supplements. Certain ingredients in biotin forte may not be absorbed if taking calcium.