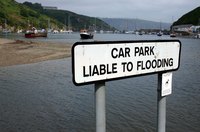 When a home is built, bought or sold it often receives an elevation certificate. These are sometimes known as flood elevation certificates, and are provided to show the risk of flooding for that particular home.
Requirements
While Federal Emergency Management Agency flood maps are used to determine whether or not a property is in a FEMA-designated flood plain, it is often necessary to hire a surveyor or engineer to fill out the certificate. These certificates are required if a person is borrowing money for a home.
Process
The certification provider determines the specific location of the home coordinates on a FEMA flood map, and certifies whether or not the home is in a flood zone. If the property is in a flood zone, a lender may still loan money on the property, but could require FEMA flood insurance.
Significance
Flood elevation certificates are also important if a home is ever part of a Special Flood Hazard Area qualifying for government assistance. An elevation certificate completed by a certified professional will need to accompany any claims for assistance.