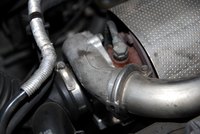 A waste gate is the main component of a turbo charger; it ensures that the motor does not get too much boost pressure while the turbo spools and revolutions per minute build up. It is an outlet that opens up to divert excess pressure from the turbo into an opening.
Internal Waste Gate
The internal type is usually found on cars with low boost settings around 5 to 6 pounds per square inch or at the most up to 10 psi. It is in the turbo housing and is a crucial part of the turbo itself. The diaphragm is linked with a hose that connects with the turbo charger, pipes and compressor outlet. When the diaphragm is activated, the gate is opened. When boost pressure goes beyond an expected amount, the diaphragm opens the spring loaded waste gate bypass flap which lets some of the accumulated pressure out around the turbo's impeller, which slows it down.
External Waste Gate
This is standalone from the turbo housing. It doesn't require extras like an actuator to function or operate. This waste gate is activated by a valve similar to the one used in a classic cylinder head. Excess exhaust is diverted from the turbo to the exhaust or directly into the environment. This is called divorced waste gate and is much louder than one that diverts directly to the exhaust.
Internal or External: Better option?
Most turbos use the external type as it works better for set ups that generate 20 pounds per square inchi to 30 psi. As there are no space constraints, this type of waste gate can be a lot larger and can control boost levels better.