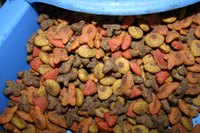 The Sphynx is a unique cat known for a lack of hair, making it less likely to cause allergic reactions in humans. They came into existence in Canada in 1966 and have been bred with normal coated cats, then back to hairless ever since to create genetically sound cats.
Appearance
This rare breed is known for being hairless, though they do have a bit of fuzz. This cat with no eyebrows or whiskers has a short nose and deep-set lemon shaped eyes, both of which seem to reflect their bodies. They have over-sized ears and long, tapered tails.
Size
The sphinx is a medium sized cat that weighs anywhere between 8 and 15 lbs. but can have a tendency to gain weight if not monitored. To ward off unhealthy weight gain, they should be fed a calorie-controlled nutritional cat food. They need normal amounts of exercise but should be limited to the indoors.
Attributes
The sphinx is extremely loyal and devoted to its owners. They are very active, affectionate and gentle natured, and they love human contact.