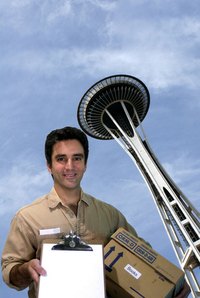 There are three major overnight shippers: The United States Postal Service (USPS), UPS and Federal Express. Other companies also offer overnight services, including DHL, Unishippers, Global Freight Systems and ACME Logistics. To compare rates, the easiest solution is to use the Internet website for each company.
Rates
Weigh your package and measure its dimensions. If you don't have a package ready, write down approximate dimensions for your package; use the same weight, destination zip code, and dimensions for purposes of comparing rates, since shipping prices vary based on weight, distance, and size. Go to the website of each of the shipping companies under consideration. For the postal service, go to usps.com and click on "Calculate Costs" under "Plan a Shipment." For UPS, go to ups.com and click "Shipping." Federal Express is at fedex.com. Click "Get Rates and Transit Times" under "Ship."
Flat Rate
The USPS offers an overnight flat-rate service not provided by other companies. As of 2010, the flat-rate letter envelope costs $18.30. For that price, it is possible to send anything that will fit in a large letter-size envelope. For items that do not fit in the flat-rate envelope use the standard Express Mail rates, which vary.
Considerations
UPS and Federal Express do provide same-day service, which USPS does not offer. They also offer a "first thing next morning" service that the USPS does not provide. Prices at UPS and Federal Express always vary with distance the package is sent and the weight of the package. They may also add a fuel surcharge. Consumers Reports in 2008 and Money Talks in 2009 found that the USPS had the lowest rates for overnight shipping.