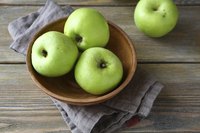 Pectin is just one type of soluble fiber found in your diet as well as in some dietary supplements. Soluble fibers play a role in digestive health, and they may offer other benefits. Pectin is found in the cell walls of most plants, but the riches sources of pectin are apples and citrus fruits (See Ref 1: para, 1). If you're considering taking pectin supplements, talk to your doctor first.
Lowers Cholesterol
Too much cholesterol in your bloodstream puts your heart health at risk. Certain types of soluble fiber, including pectin, have a beneficial effect on cholesterol, according to a study published in the May 2012 issue of the European Journal of Clinical Nutrition. The authors evaluated the effect of apple and citrus pectin on men and women with mild cases of high cholesterol. After four weeks, the apple and citrus pectins reduced low-density lipoprotein by 7 to 10 percent. LDL is the bad guy when it comes to cholesterol -- it transports cholesterol throughout your body and collects on artery walls, contributing to cardiovascular disease.
Improves Satiety
Soluble fibers like pectin form a gel in your intestines, which slows the movement of food through your digestive system. This effect helps keep you feeling full, according to the authors of a small study published in the International Journal of Obesity in June 2014. The researchers found that pectin modestly reduced appetite and increased feelings of fullness in participants, all of whom were women. Researchers also found that the reduction in appetite caused a 6 percent decrease in calorie intake.
May Promote Intestinal Health
Your intestines are host to beneficial bacteria known as probiotics. Pectin may promote healthy levels of these bacteria, which plays a role in keeping your system healthy. Probiotics also help keep bad organisms out of your intestines.
In children, pectin reduces intestinal infections and slows diarrhea, according to the author of a review published in the December 2010 edition of the journal Nutrients. In test tube experiments, pectin stimulated the growth of Bifidobacteria and Lactobacillus -- two common probiotic strains. However, long-term human studies are still needed.
Preliminary Anti-Cancer Benefits
Pectin may help protect against cancer, according to the Nutrients review. The review reports that pectin binds to and reduces the growth of cancerous tumors in animals. Scientists don't yet know the exact mechanism responsible for its anti-cancer effects. However, the author hypothesizes that pectin binds to a protein called galectin-3 and reduces its functionality. Galectin-3 is a protein involved in various biological functions, including tumor growth. However, just because pectin has this benefit in animal studies doesn't mean it will have the same benefits for humans. More studies are needed.