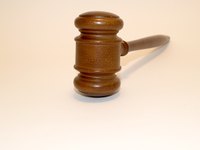 Auctions are a popular and effective way to buy or sell a service at a competitive market price. There are many ways to organize an auction. Open tendering is one type of auction.
Services Bidding
During open tendering, service providers offer a bid to a consumer or government. The service provider includes the minimum price of the service as well as the level of quality the service provider can offer. A more traditional auction involves buyers bidding for a service. An open tendering operates in reverse: the service providers bid for the consumer's money.
Sealed Bids
Open tendering requires each service provider to make a sealed bid. The bid is "sealed" because it is not made public at first, and the bidder does not discuss his bid with other bidders. This process is designed to encourage bidders from offering their lowest possible price. If a bidder is worried another bidder might offer a lower price, he will likely reduce his price in turn.
Public Scrutiny
One of the most distinctive features of open tendering is that, once all the bids are in, all the bids are opened and evaluated publicly. This process ensures transparency and increases the likelihood that a competent, low-cost service provider is selected.