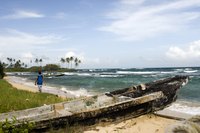 Some countries prohibit foreign citizens from owning property while other countries enforce certain restrictions on foreign citizens wanting to own property. Nicaragua allows foreign citizens and businesses to own property outright without the restrictions other nations impose.
Ownership Options
The easiest way to own property in Nicaragua is to do so outright in your own name. You can also search for a real estate company or law firm that will create an entity for you to own property within Nicaragua as a tax alternative.
Hire Representatives
Doing any property transaction moves more smoothly with a lawyer and a real estate broker. Unlike the United States, Nicaraguan real estate brokers do not necessarily communicate and keep aware of each other's listings.
Assessments
Make sure you do inspections before you make your purchase. Nicaraguan laws require the buyer to make such determinations before the purchase. Sellers in Nicaragua are not responsible for full disclosure as they are in the United States.