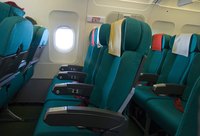 Travelers face a number of challenges, including additional consideration of airline seat sizes. Knowledge of an airline's seat dimensions can help you avoid a cramped and uncomfortable flight.
Width
American Airlines primarily operates Boeing 737, 757, 767 and 777 aircraft. Seat widths for these Boeing models are 17.2, 17.2, 17.8, and 18-18.5 inches respectively. The airline also flies the McDonnell Douglas MD-80. Seat width for the MD-80 is 17.75 inches. These listings are for economy class seating; a typical business or first class seat may be two to 13 inches wider depending on the aircraft and class of service
Pitch
Seat pitch refers to the distance from a given point on one seat to the same point on the next seat. Thirty-one inches is standard for economy seats on both Boeing and McDonnell Douglas aircraft. Exit rows range from 39 inches to 40 inches, while business or first class passengers can expect 40 inches to 62 inches. First class on Boeing 777 international flights features a lie-flat option, offering seat pitch of 90 inches.
Shrinking Seat Sizes
With companies constantly looking for ways to cut corners, passengers can expect seat sizes to go the way of airline peanuts and complimentary headphones. In 2009, American airlines announced a reduction of seat pitch from 32 inches in coach to the current 31 inches. Discount airlines, like Ireland's RyanAir, have discussed reducing seat pitch to a mere 23 inches.