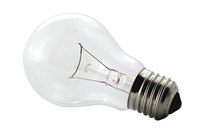 Inventions have influenced every society since the dawn of man. Even the most primitive of today's cultures use inventions such as vessels to carry food and water, weapons to kill prey, tools to create shelter and musical instruments to enhance their lives.
Benefits
According to UNICEF, the number of deaths among children under age five dropped from 12.4 million in 1990 to 8.1 million in 2009, due, in part, to the invention of vaccines. The invention of the combine has led to better ways to harvest crops and feed the world. The light bulb illuminates the night, the telephone allows instant communication across vast distances and airplanes enable us to travel around the globe.
Challenges
The use of nuclear fusion has led to weapons powerful enough to annihilate entire societies. Proper safeguards and ethical and moral oversight are necessary to ensure our knowledge is used for the collective good.
Opportunities
New inventions are born every day in universities, laboratories, even garages. The U.S. Patent Office awarded patents to about a third of the nearly 500,000 applications received in 2009.