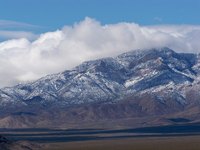 When people hear the name Nevada, they often think of Las Vegas, or a place to go to gamble. But they can overlook the beautiful and temperate climate of the state. The state's topography offers a wide variety from deserts and plateaus to mountain ranges, all with varying temperatures.
Temperature
Mean annual temperatures range from the middle 40's in the northeast to the middle 60's in the southern deserts. Large mountains just outside the state prevent the intense cold that invade Colorado and Idaho each winter from hitting Nevada. The result is fairly mild temperatures on average. However, extreme temperatures ranging from 120 degrees Fahrenheit to 50 degrees below zero have been recorded.
Precipitation
Overall, the state boasts a very low humidity level. Precipitation variations occur because of elevation differences and storm exposure. Las Vegas is noted for its dry, desert weather and receives an average of less than five inches of rain per year. Nevada's mountain ranges can offer seasonal snowfall of over 300 inches.
Severe Weather
Mountain snow provides much of the state's water supply. Although damaging floods are infrequent, Nevada has experienced some heavy flooding. Heavy downpours, called cloudbursts, can bring as much rain in a few hours as the area normally receives in months. High winds seldom occur, although tornadoes have been noted between April and September.