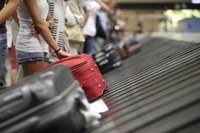 Delta Airlines serves destinations around the world -- and that means a lot of departing and arriving every day. When you or someone you know is arriving on a Delta flight, you'll need to know what time the flight arrives and the pickup location for any checked bags.
Checking Arrival Times
Use Delta's "Flight Status" web page to check what time a particular flight is set to arrive. Enter either the flight number or the departure and arrival cities to get arrival time information. Drive to the arrivals area at the airport and look for the Delta sign in the arrivals/baggage-claim lane. Outside the U.S., there may not be a Delta lane, however, so simply wait in the arrivals area.
Getting Your Bags
When you deplane, follow the airport signs for baggage claim. At most airports, there are signs in the claim area that indicate the carousel where your bags will come out. Keep your Delta ticket or e-ticket handy as the baggage-claim information typically is listed by flight number. If your bags don't arrive, head to the Delta baggage counter -- or the general baggage counter near baggage claim -- to inquire about your bags. You can visit the Delta "Delayed, Lost or Damaged Bags" web page to file a claim for lost or damaged bags. If you're flying on a Delta international flight, you'll typically go through Customs after you've gotten your bags.