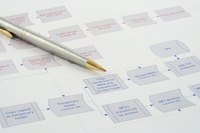 Process flowcharts, also called process flow diagrams, are visual representations of the principal relationships in a production or system process. Steps in a process are shown graphically on a large sheet of paper or as computerized illustrations.
Elements of a Flowchart
Each step on a process flowchart is given a particular shape to identify what is taking place during that step. Flowcharts make the logical flow of a system or process easier to understand. Shapes define an individual action. Arrows indicate the direction of process flow.
Basic Shapes on a Flowchart
Starting points usually begin with a circle or an oval. A process step is indicated with a rectangle. Decision points are represented by diamonds. Inspection points, or steps that require measurement or verification, are drawn as squares. A simultaneous operation and inspection is shown as a circle within a square. Data that is vital to the process flow is indicated with a parallelogram. Manual operations are placed in a trapezoid.
Advanced Flowchart Symbols
Special symbols are used to indicate direct data (a cylinder), sequential data (a circle with a line at the bottom) and stored data (a rectangle that is concave at one end and convex at the other).