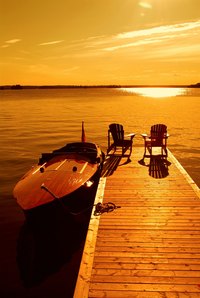 When making travel plans that include staying at or near a private resort or campground, it's easy to assume that the facilities offered are for use by the establishment's guests only. However, many resorts have boat docks, fishing piers, swimming beaches, spas and other amenities open to the public. This means you don't necessarily have to be a guest at the private facility to luxuriate along some of the most scenic stretches of beach or treat yourself to world-class relaxation.
Public Doesn't Mean Free
Just because something is open to the public doesn't mean using it won't cost money. For example, at 'Tween Waters Inn Island Resort on Florida's Captiva Island, you don't have to be a resort guest to use their boat docks, marina or spa. Guests receive discounted rates for the facilities, and the public pays slightly more. At some amenities open to the public, resort guests and the general population pay the same rate, for example at Scottsdale, Arizona's Phoenician Resort's top-rated golf course, but here resort patrons receive priority booking and tee times.
The Simple Things
Public amenities may also include such things as public restroom facilities, drinking fountains, pathways and lounging areas. These amenities are usually provided at no charge to both guests and the general public.