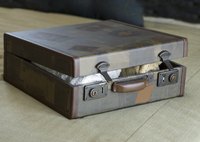 Realizing that the airline has lost your luggage is not a fun part of any trip. Fortunately, United Airlines has a system in place to help passengers reconnect with their lost luggage as soon as possible.
Time Frame
Persons who realize that they have lost their luggage should contact the United Airlines baggage agent in the airport, typically at the claims office area, before leaving the airport. Persons who need to call United Airlines to report their lost baggage may call United's Baggage Service and Lost and Found at 800-221-6903 within 24 hours.
Considerations
United Airlines often contracts with other airlines, including Continental, for some of their flights. United passengers who lose a bag on a Continental flight must contact Continental Airline's Baggage Resolution Center at 800-335-2247. Passengers on a Continental flight should contact the airline immediately after a flight, and a written report of missing luggage is required within four hours.
Warning
While United Airlines offers a phone number for persons wishing to report lost baggage, the airline encourages passengers with lost baggage to report an incident in person at the airport. In addition, reports of missing baggage are often required and are not taken over the phone.