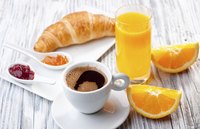 A continental breakfast usually features a simple spread of breads, jams and butter that guests can help themselves to, along with a selection of juices, teas and coffee. This is different than a plated breakfast or a hot breakfast, which you might order from a server and have delivered to your table. The deluxe continental breakfast adds a few more items, such as fruit, cereal and pastries, to the menu. What you find included in your deluxe continental breakfast depends on who's serving it.
Deluxe Continental Breakfast Menu
At Starwood Hotels, which includes Sheratons, a deluxe continental breakfast includes orange juice, cranberry juice or grapefruit juice as well as coffee and tea. There's also a selection of berries, fruits and yogurts to go with muffins, Danish, croissants and bagels, along with butter, jam, honey and cream cheese as topping. Cold cereals and milk are available. At the Embassy Suites, a deluxe continental breakfast offers muffins and breakfast pastries, bagels with cream cheese, yogurt with granola and fruit. Drinks include orange juice, apple juice, cranberry juice, coffee and tea. The Laguna Hills Lodge in California provides a selection of juices, muffins, pastries, toast, fruit, bagels, cereals, oatmeal and hard-boiled eggs, in addition to coffee and tea.