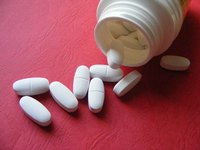 Oxycodone and Opana are semi-synthetic opioids used in the treatment of moderate to severe pain. Opana is actually the registered name of an oxymorphone tablet manufactured by Endo Pharmaceuticals. Both drugs have similar effects with the biggest difference being cost.
Dosage
The dose ratio between oxycodone and oxymorphone oral preparations is about 2:1. Oxymorphone requires about half as much medicine by mass to reach the same comfort level as oxycodone in pain treatment.

Effects
The desired effect of both oxycodone and oxymorphone is generally analgesia or pain relief. Other uses include sedation and treating dyspnea, or shortness of breath. Both drugs have similar side-effects such as decreased respiratory function, nausea, vomiting, constipation, drowsiness, and more.

Cost
In the US, oxymorphone tablets are only available under the trademarked name Opana. Oxycodone was developed much earlier and is currently available in generic preparations. For this reason, oxycodone is significantly cheaper than oxymorphone.