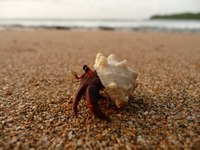 Caring for a pet hermit crab can raise many questions you probably haven't encountered with other pets. One of these questions is how to care for a crab that's lost a limb and what it means for the crab's health.
Stress
Often, when a hermit crab is stressed, it begins to lose limbs, including the big claw. A hermit crab most commonly experiences stress when being moved from the pet store to your home. Therefore, this issue usually occurs just after you purchase your crab and should cease when the crab is feeling more secure in its new surroundings.
Poor Pet Care
If your hermit crab begins to shed legs and claws after you've had it for some time, it could be due to poor crab care. Make sure that you've provided your crab with a warm, humid environment and the correct food and water supply. Make sure there are no chemicals in or near the habitat. Hermit crabs also need decorations such as driftwood and plastic plants to keep them engaged.
Care After Claw Loss
Hermit crabs do occassionally lose limbs, including the largest claw. However, hermit crabs can survive without their claw. The best thing to do is keep them isolated and stress free. When the hermit crab next molts, it begins to regrow lost limbs.