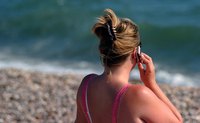 The Florida Public Service Commission assigned telephone area code 850 to the 18 counties in the Florida panhandle in 1997. The panhandle extends from the main part of the state westward underneath Mississippi and Alabama.
Counties It Serves
The counties in Florida covered by this area code are: Bay, Calhoun, Escambia, Franklin, Gadsden, Gulf, Holmes, Jackson, Jefferson, Leon, Liberty, Madison, Okaloosa, Santa Rosa, Taylor, Wakulla, Walton and Washington.
History
Area code 850 was created in 1997 when the number of available phone numbers in the 904 area code started running out. It is the ninth area code created for Florida.
Number Designation
Phone companies assign the 850 area code for use by residential and business landlines, fax machines, ATM machines and credit card transaction machines in the panhandle, as well as cell phones purchased from stores in the panhandle.
Cell Phone Use
Mobile phone users may keep their numbers, even if they move out of the area code's designated geographical location; therefore, the 850 area code may not always indicate the user is living in the Florida panhandle.