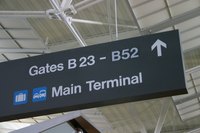 United Airlines has a number of policies relating to trip cancellation or changes in itinerary, as of October 2010 (See Resources). Some of the most common apply when a passenger cancels or changes her flight, while others permit the airline to cancel a reservation.
Time Frame
You can cancel your United flight without charge or penalty within 24 hours of purchasing your ticket. You can cancel by calling 800-UNITED1, online with a MileagePlus account, or with your travel agent. If you attempt to cancel your reservation after 24 hours, you may incur charges, depending upon the nature of ticket purchased.
Considerations
Under certain circumstances--medical, personal and travel emergencies--United will refund any fees associated with cancellation or itinerary change, as long as it occurs prior to the original flight. Allowable circumstances include loss of travel documents, jury duty, political unrest, involuntary job loss, serious illness or injury, death of a travel companion or immediate family member, or military activation during travel dates.
Warning
United may cancel your flight if you are not at the boarding gate, prepared to board the plane within 20 minutes of departure for flights within the continental United States, Canada, Mexico or the Caribbean, and within 30 minutes for other international flights or Hawaii.