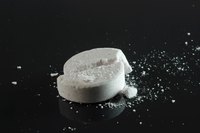 A white pill with the imprint 44 159 is an over-the-counter analgesic medicine called Genaced, which is manufactured by Teva Corp., previously known as IVAX.
Contents
Genaced contains a combination of analgesics—or pain-relieving substances. Acetaminophen, aspirin and caffeine are all present in Genaced.
Use
Genaced is used to treat pain and fever, migraine and osteoarthritis. The U.S. Food and Drug Administration has not determined whether the drug is safe to use during pregnancy.
Dosage
The Genaced pill with imprint 44 159 may contain either a 250 mg dose or a 65 mg dose. It is important to refer to the original packaging of the pill to determine the correct dosage.