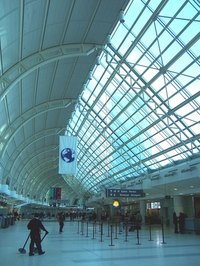 Flying is not getting any cheaper, especially when airlines are adding fees for checked luggage. Though some airlines still have free checked luggage, all of them have restrictions on the size of those bags.
Dimensions
According to The Washington Post, major airlines will allow up to 62-63 total inches for your checked bags. To figure out if your bags will make the cut, just add up the length, plus the width, plus the height of your bag to equal your total inches.
Weight
All of the major airlines have a weight limit of 50 pounds for each of your checked bags. If you tend to pack more than you need, your flight may end up costing you extra if you exceed the weight limit because of the extra fees for each of the overweight bags.
Additional Fees
Additional fees can be added for exceeding the weight or size limits of your bags. If your bag is over the weight limit of 50 pounds, a fee may be added and additional fees may be added if it's more than 70 pounds. If your bag is too large--over 62-63 inches in dimension--you may be required to pay an extra fee, as well. Depending on the airline, the fees can range from $29 to $150.