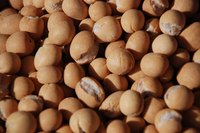 Green peanuts are fresh and raw, before they have been dried roasted or salted. They can be eaten, but they must be refrigerated or consumed right after harvesting to maintain their freshness.
Contamination
Green peanuts may become contaminated during the growth and storage process by the mold fungus Aspergillus flavus, which then releases the toxic substance aflatoxin. If you eat fresh raw green peanuts, make sure they have been recently harvested or properly stored.
Nutrition
Peanuts are rich in nutrients, high in protein and high in unsaturated fat. Nutrients are present when eaten in the fresh raw form, but the raw green peanuts are not as easy to digest.
Allergies
Some people have peanut allergies and should not consume raw or cooked peanuts or peanut products. It is the roasting process that often creates allergens, so the allergy may not exist if green peanuts are eaten raw.