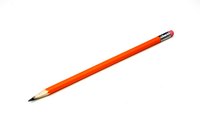 Bright yellow Ticonderoga brand pencils are probably one of the most-recognized pencils in the world. The company that manufactures the famous pencil touts it as being "the best of its kind."
History
The Dixon Ticonderoga pencil's roots can be traced back to 1795. Joseph Dixon founded the Joseph Dixon Crucible Company and manufactured the first pencils made in the United States, among other graphite-based products used at the time. Pen and ink were still the writing instruments of choice until the Civil War, when the need for dry and portable marking tools were needed. Officially introduced in 1913, the Ticonderoga is still one of the best-selling and well-known pencil brands on the market. According to the Dixon Ticonderoga Company, located north of Orlando, Florida, they produce over a half-billion pencils each year. Today the Dixon Ticonderoga Company makes variations of this pencil, including Ticonderogas made of recycled tires.
Features
In the United States, the hardness or softness of the pencil core is indicated with a number. A combination of graphite and clay makes the "lead," though today's pencils contain no traces of lead. More graphite in the core equals a darker-marking pencil, while more clay produces lighter marks. Europe uses a letter-grading system to refer to the hardness or softness of the core, with H standing for hard, and B for black. +
Fun Fact
The Ticonderoga pencil got its name from Fort Ticonderoga in New York state, a military post near Lake Champlain. The company producing the pencil chose the name because it represented "a fine American name for a fine American pencil."