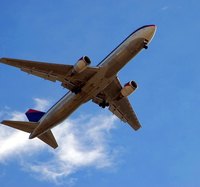 Price discrimination is a pricing strategy that is common to the airline industry. It exists when a business offers different prices to different groups of consumers. According to an article titled "Price Discrimination" written by Geoff Riley at Eton College on September 2006, price discrimination creates price competition between airlines and helps maximize revenue.
Supplementary Profit
In the airline industry, fixed costs are high, whereas variable costs tend to be low. Therefore, when there are no unsold tickets, it is in the airlines' best interest to charge a lower fare for these tickets to at least help cover variable cost. Airlines earn supplementary profit from this strategy.
Source of Cash Flow
Airlines also offer lower prices for early booking. This allows airlines to know how full their flights will be and provide a source of cash-flow during the time prior to the service being provided. As the date of the flight draws closer, the price of the flight will increase and those individuals who find it necessary to take the flight will pay the amount being offered, regardless of the earlier price.
Profit Maximization
Occasionally, airlines categorize prices by time or peak or off-peak periods. During off-peak times when demand is low, prices are lower. During peak periods, when demand is higher, the prices of tickets are higher than normal. The higher demand and the rising costs during peak periods cause the profit maximizing price to increase.