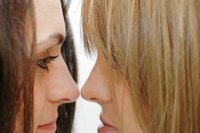 Mucus is mostly water and salt mixed with proteins and is produced by mucus membranes. Mucus contains antibodies to combat infection. Healthy, normal mucus is clear and transparent. Nasal mucus changes in color when the body is fighting infection.
Mucus Membranes
Mucus membranes are found in the lungs, intestines, mouth, stomach, nose and other parts of the body. Nasal mucus helps to keep inhaled particles from reaching the lungs by trapping the particles before they get there.
Colds
The nose and sinuses produce clear mucus when initially infected with the cold virus. The purpose of the mucus is to assist in washing germs from the nasal passage and sinuses. As the cold progresses, the body's immune system combats the germs and turns the mucus yellow. When the bacteria that live in the nose grow back, they turn the mucus green.
Infection
According to the National Institutes of Health, many people believe that if they have green or yellow nasal mucus they should take antibiotics because it indicates a bacterial infection. This is not true. As a cold develops, the mucus turns yellow or green, but it is a virus that causes colds. Using antibiotics to treat a virus is of no help. So remember, while green mucus sometimes indicates bacterial infection, it does not necessarily mean you need antibiotics.