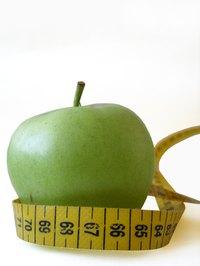 The idea that you can lose weight by wrapping the body in plastic is a common misconception. "Body wraps" of any sort, whether they be homemade, purchased from an infomercial or retailer, or undertaken in a beauty salon do not burn fat or shrink fat cells.
Weight Loss Scam
According to fitness author, body-builder and personal trainer Tom Venuto, if an advertisement for a plastic or other type of body wrap claims its use will induce fat loss, it should be treated by the consumer as a scam. No scientific research exists that backs up these claims.
Prosecution
Companies claiming body wrap products cause fat loss could potentially be prosecuted by the Federal Trade Commission if investigated, due to the lack of scientific evidence backing up their claims. In this case, they would be forced to at least stop making the claims, if not be subject to a heavy fine.
Wrap's Function
Wrapping your body in plastic — or any other type of body wrap — may initially take inches off your waist. This does not equate to melting away fat, however. It is merely water weight and its effect is only temporary, until you fully rehydrate yourself.
How Fat is Lost
The only way to burn fat is to either consume less calories, exercise more, or, for maximum weight loss, do both. An exercise program consisting of several cardio and at least two resistance training sessions per week is ideal, in combination with a balanced, nutritious diet.