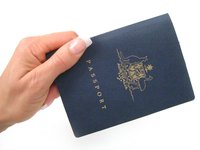 The United States State Department has strict guidelines that they require you to meet to obtain a passport for a minor including having both parents appear with a minor child when applying for the minor's passport. However, there are a few ways to get around that requirement.
General Requirements
To obtain a passport for a minor child, you must appear in person with your minor child or the child over whom you hold guardianship. Complete and submit Form DS-11, submit child's birth certificate, submit evidence of relationship between child and parent or guardian, present your identification, submit a copy of your ID, pay the fee and submit two passport photos.
When One Parent Is Present
Sign form DS-11 in front of the passport agent and submit a notarized statement of consent from the second parent.
When You Have Sole Custody
Sign form DS-11 in front of the passport agent. Submit your child's birth certificate where you are the only parent listed or a copy of a court order granting you sole custody.
When You Are the Guardian
Complete the previously mentioned requirements. Submit a notarized written affidavit from the parents authorizing you to apply for the passport. Present evidence of sole custody if only one parent signs the affidavit.