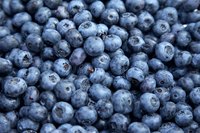 The deep indigo hue of a basket of blueberries is appealing enough on its own to make them appetizing, but the berries' nutritional benefits are icing on the cake. Low in calories and rich in compounds that can help improve health and prevent disease, blueberries are a smart snack choice.
Nutrition Facts
According to the U.S. Department of Agriculture, 1 cup of raw blueberries has about 85 calories, 1 gram of protein, 0.5 gram of fat, 21 grams of carbohydrates and 3.5 grams of dietary fiber. The most nutritious blueberries, at their peak of ripeness, will be plump, firm and have a dusty blue shade. They can be refrigerated for up to two weeks, although the nutrients in fresh berries and other fruits begin to break down over time.
Full of Fiber
Blueberries are a fantastic aid in weight control because of both their fiber content and their low energy density. The 3 to 4 grams of fiber per cup of blueberries meets about 15 percent of a woman's recommended intake for daily fiber and about 10 percent of a man's. According to a research review published in 2005 in the journal "Nutrition," dietary fiber intake is inversely associated with body fat percentage and total body weight.
Low Energy Density
Low-energy-dense foods like blueberries have a relatively low number of calories in a relatively large serving size, coupled with a high water content. Blueberries are about 85 percent water. That high water content adds volume to the fruit and dilutes the calories, meaning you're likely to feel fuller on fewer net calories.
Vitamins and Minerals
Citrus fruits are the poster children for vitamin C, but blueberries belong right next to them. One serving of blueberries provides more than 15 percent of the daily value for vitamin C. Blueberries are also a good source of potassium and manganese. Potassium is essential for muscle and protein growth and can negate the harmful effects of sodium on blood pressure. Manganese assists in converting macronutrients to energy sources and encouraging healthy bone development.
Protective Compounds
Blueberries are also a rich source of phytonutrients, special compounds that can help prevent serious health problems. Called polyphenols, these substances can decrease inflammation, reduce risk factors for cardiovascular disease and reduce the risk of cancer.