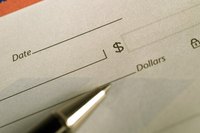 Las Vegas offers many options for getting additional cash, especially with the vast amount of ATMs in the casino and abundance of check cashing businesses in the area. It is even possible to cash an out-of-state personal check with the proper identification.
Locations
Many casinos, such as The Mirage, offer personal check cashing for those who show proper identification. This service is available at the casino cage in each of the casinos throughout Las Vegas.
Identification Required
When cashing a personal check at most casinos proper identification will be required, including a valid driver's license and major credit card. Some casinos will insist that you are a guest of the hotel and will require a room key or proof of reservation to cash a personal check.
Amount
There will be a set number of how much you can cash your personal check for. This is determined by which check-guarantee system the casino uses and your personal credit score.