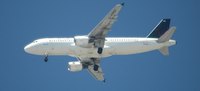 Airlines have different methods of dealing with passengers who don't use the return portion of a round-trip ticket. Some will penalize you by canceling the unused portion of the ticket, but others will give you a monetary credit that can go towards your next flight.
American Airlines
Write or email the refund department at American Airlines to request a refund for unused portions of refundable ticket. If you've bought a non-refundable ticket, you may still seek a refund under extenuating circumstances--such as a death or serious illness--if you call the airline ahead of time. Otherwise you will be penalized by a useless ticket coupon for your return flight.
Continental Airlines
While Continental does offer to apply the cost of the unused portion to your next purchase in the form of a credit, restrictions apply. The airline can choose to impose "fees and surcharges" as they deem appropriate, which can eat up the cost of that credit.
Delta Airlines
Delta allows you to request a a refund by phone, mail or online. If you've bought an e-ticket, it is probably easiest to submit the e-ticket number online. For paper tickets, include the actual unused ticket in the envelope with your request. Explain why you haven't used the return portion of your ticket, and Delta will review your claim. The company will then decide whether a refund should be issued.
United Airlines
United issues refunds for unused portions of refundable tickets through an online form. If your ticket was non-refundable, your refund request may be denied.
General Tips
If you contact the airline before the return portion of your trip is set to depart, you may have better luck in obtaining a refund or a partial-refund. Because airline policies vary, it is good to contact them as soon as possible to find out what your options are.