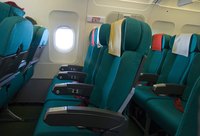 Passengers flying on Delta Airlines are permitted to carry on one bag and one personal item at no charge. The bags must fit easily into the plane's overhead bins or under the seat in front of you. If your carry-on items do not meet Delta's size requirements, the bag will be checked at the gate and you will be charged a checked baggage fee.
Carry-on Baggage Size Restrictions
Carry-on baggage must meet Delta's strict size guidelines. Carry-on bags cannot exceed 45 linear inches. This is the total combined measurement of the length, width and depth of the bag. Bags must also fit into either the overhead bin or the seat in front of you. For convenience, Delta has placed a carry-on baggage check at all of their departing gates and check-in counters to help passengers measure the size of their bags.
Approved Personal Carry-on Items
Passengers are permitted to carry on a second personal item at no charge. Personal carry-on items include a purse, diaper bag, camera bag or laptop computer bag. Delta officials also consider shopping bags filled with food or magazines personal items, so it is best to consolidate these items into one bag for easier boarding.
Special Items
Delta does not consider items like jackets, umbrellas, duty-free merchandise or loose food items personal items. Similarly, items including strollers, child safety seats and wheelchairs are not considered personal items, but you can speak with a flight attendant about the best way to store these items during the flight.