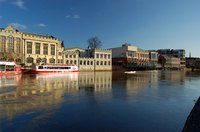 From one European river cruise to another, there are many things to consider. One of the first considerations for most people is the cost; another consideration may by the duration of the trip. A final consideration is the route.
Cost
European river cruises vary greatly in cost. As of 2010, the price of an eight-day cruise was between $1,156 and $2,539. The price of a 15-day cruise was between $2,562 and $3,699.
Length
Whether it's a short, exciting trip or a long, leisurely one, European river cruises come in several durations. Cruises last as little as four days to as long as 29 days. Several "medium-length" trips are also offered.
Routes
Some European river cruises include only one river; others include a combination of rivers. Some of the rivers explored on these cruises are the Danube, the Elbe, the Rhine, the Rhone, the Seine, the Saone, the Main and the Moselle, as well as the waterways of Holland and Belgium.