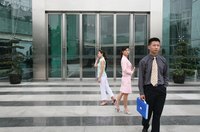 The competitive, dog-eat-dog nature of business can bring out the beast in individuals and companies. Accordingly, poaching describes specific and aggressive business tactics that occasionally inspire non-poaching agreements between companies.
Details
Non-poaching agreements often indicate that at least two companies have agreed that none will prey upon another business' employees or clients. These may also be called non-solicitation agreements, notes the Practical Law Company, which may be made amid concerns about competition between companies.
Scope
Non-poaching agreements may even reach beyond land-based business. According to the "Handbook on Ocean Politics and Law," a 1984 non-poaching agreement named the Provisional Understanding Regarding Deep Seabed Matters was signed by eight countries, including the United States and Japan, which mandated respect for other countries' seabed mining claims.
Considerations
Concerns had been raised regarding Google and Apple about a possible non-poaching agreement between them in violation of anti-trust laws. However, in September, 2010, these two companies, along with four others, agreed to an antitrust agreement after a year-long investigation headed by the U.S. Justice Department.