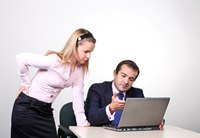 Globalization, flexibility and decentralization provide an opportunity to strengthen the employer-employee relationship, particularly with labor unions. Unions shape strategy and structures to respond to the workers' interest. Employee empowerment unionism is a strategy that empowers individuals to make decisions within a union-negotiated framework. (See Reference 1)
History
In the 1980s, the rigid control of management and unions shifted from practices that did not involve labor in job classifications and how work was performed, toward granting more employee autonomy. To meet the changing needs of the American worker, labor unions focused, in part, on empowering employees to participate in determining workplace procedures and processes.
Employee Benefits
Employees have greater flexibility, can determine equitable working conditions, and, negotiate minimum standards and safeguard procedures when they are empowered to do so. Employees feel valued when they can have meaningful input in workplace decisions.
Organization Benefits
Organizations benefit when workers are productive. Productivity leads to efficiency. Efficiency helps companies become more profitable. Employee involvement in decision making provides insight for improvement methods that give the company a competitive edge.
Industry Examples
Examples of how employee empowerment unionism has transformed labor relations are professional sports and the entertainment industry. Individuals negotiate their salary and working conditions. (See Reference 2, used in Reference 1 regarding this union strategy in other industries)