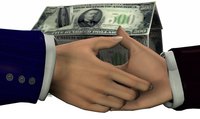 Whether a home loan is a promissory note or a mortgage, it is important to know the terms of your agreement so the guidelines can be followed accordingly. Benefits depend on how you prefer to make payments.
Promissory Note
Finance companies often use promissory notes as a way to finance a loan with a source other than a bank. Promissory notes are not just IOUs; they outline the steps necessary to pay back the debt. Promissory notes may also include an acceleration clause, which makes the entire amount automatically due after a missed payment.
Mortgage Note
Mortgage notes list specific information, such as the amount of funds borrowed, the interest rate, repayment schedule and monthly payment amount. Mortgage notes also identify the person responsible for repayment. Mortgage notes are often financed through banks. Once a promissory note is created, it can be sold to cash to a mortgage buyer after the close of escrow, or money held by a third party.
Legal Standing
Mortgage and promissory notes are legally binding. They are also valid in all 50 states and state laws regulate how much interest can be charged on a loan. Failure to pay could result in fines or foreclosure on the loan.