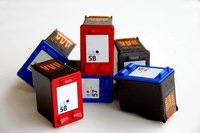 Dell standard- and high-yield ink cartridges are manufactured to work best in specific Dell inkjet and all-in-one printers. The company makes a wide variety of printers and produces cartridges with both standard and high page-print yields.
Standard Yield
Standard Dell inkjet cartridges produce fewer printed pages than high yield, but cost less. The number of pages a standard cartridge produces depends on which cartridge and which printer you have. Series 11 standard black ink cartridges for the Dell V505 All-In-One printer produce 256 pages, and the standard color cartridge produces 239 color pages. The Series 11 standard black ink cartridge in the more ink-intensive Dell Photo 948 All-In-One printer only produces 181 pages. The standard color cartridge produces 231 pages.
High Yield
High yield cartridges generally have more ink in the tank, resulting in more page-print capacity, and cost more than standard cartridges. Series 11 high-yield black ink cartridges for the Dell V505 All-In-One printer produce 461 printed pages, while the high-yield color cartridge produces 363 pages. The ink-intensive photo printer Dell 948 All-In-One produces 552 color pages with a high-yield Series 11 cartridge, and 472 black pages.
Considerations
To test page-printing capacity, Dell uses 8.5-inch by 11-inch standard paper and specific ink coverage parameters. The amount of printing you do on each page will likely be different and result in some variation on standardized page yields per cartridge.