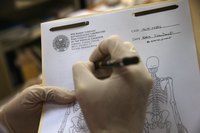 Forensic science technicians work in crime labs and law enforcement agencies, where they collect and analyze evidence left at crime scenes. They work both in the field and in laboratories handling sensitive information on behalf of their agencies. Because of the nature of the work, forensic science technicians, also called crime scene investigators or criminalists, follow a strict code of ethics that serves to protect the integrity of the evidence.
Honesty in All Affairs
The American Academy of Forensic Sciences has the strictest of policies regarding honesty as the top line item in its code of ethics. Honesty for forensic scientists begins with their experience and training; no one should misrepresent herself or her educational background. At the same time, criminalists are required by the code to never misrepresent data or evidence as they find it in their scientific discoveries.
Accuracy is Vital
While there is no one set of rules regarding ethics that governs the profession, according to "Evidence Technology Magazine," crime scene investigators must strive at all times to be accurate. Mishandling of materials, contamination of collected evidence and sloppy reporting can lead to disastrous results for investigators and criminal prosecutors.
Clarity in All Reporting
Criminalists have an ethical duty to clarify their findings so that a layperson sitting on a jury can clearly understand the results of the tests. Juries place significant trust in the expertise of professional crime scene analysts and their findings. They should not be swayed or confused by scientific terms and reports that no layperson could reasonably understand. Truth in all reporting for forensic science technicians also extends to the witness stand in court.
Latest Techniques
Many organizations require forensic employees to sign a code of ethics agreement as a condition of employment. Just as employers must provide criminalists access to the latest and most effective equipment, forensic scientists are obliged to use it and not rely on outdated methods for which they may be more comfortable. The guilt or innocence of a suspect often rests with the criminalists. As such, they must use all recognized and accurate forms of testing.