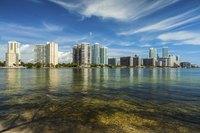 Celebrities and city officials watched from a special viewing area on January 23, 2005, when Miami's famed Everglades Hotel was imploded to make room for a chic waterfront condo development.
The Beginnings
Completed in 1926, the Everglades Hotel rose 23 stories above Miami's Biscayne Bay. A multi-storied cupola atop the hotel accentuated its boxy architecture. But, on September 18, 1926, the worst hurricane in Florida's history hit Miami, inundating the hotel's first floor. Despite the flooding, city residents used the hotel for refuge from the destruction surrounding the building. During World War II, the U.S. Navy housed officers training at naval bases in Miami in the Everglades. After the war, an antenna atop the Everglades made the first TV transmissions to the city.
Jimmy Hoffa
Jimmy Hoffa, head of the Teamsters Union, famously disappeared in 1975, never to be seen again. In 1959, he and the union took over the Everglades Hotel, promising to resuscitate the hotel's finances. Hoffa had great plans to add a nightclub and build a rooftop pool, but the union became entangled in a lawsuit over mortgage payments. Hoffa would go to jail for taking kickbacks.
The End
The Hotel Everglades continued its downward spiral after the Hoffa era until locals agreed that the oft-renovated, struggling property occupied prime real estate that could be better used. In 2003, the decision was made to tear the hotel down. As a final gift to the city, the owners allowed fire and rescue personnel practice in the hotel's rubble.