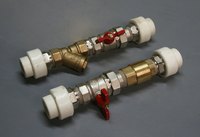 Check valves prevent backward flow of liquids. These are simple valves are often used in water supplies and irrigation systems. They are frequently doubled for better performance. These double valves are called double check valves.
Flap Check Valves
These check valves have a flap or disk that allows water to flow in the approved direction. When water flows from the unwanted direction, it forces the flap against the opening and prevents flow. This is the worst kind of double check valve because the flap can rest on top of flowing water--especially if the valve is old.
Ball Check Valves
The ball style check valve is the most effective (and most expensive) type of check valve. A spring holds a ball against one port of the valve. When water flows in the correct direction it pushes against the ball, overcoming the spring pressure and opens the valve. When water tries to flow in the incorrect direction, it works with the spring to hold the ball in the port more firmly.
Cone Check Valves
The cone check valve has a cone that normally fits into a port. When water flows in the correct direction, it moves into the point of the cone and lifts it out of the way. When water flows in the improper direction, it pushes on the flat part of the cone and forces it deeper into the port--closing the valve.